Overview

Fonawy Standard is a Windows program which is Call recorder, Answering machine, Caller ID, Dialer, and Phone book software. Record outgoing or incoming call or any signal on the phone line. Auto answer machine mode will anwer the incoming calls and play optional greeting legal message before recording. Photo caller ID will display the caller name, number and the photo from the phone book. Lots of nice features and easy user interface.
Hundreds of hours of telephone conversations can be stored on your hard drive. All recorded phone calls are compressed to maximize storage capacity with different wav compression and recording options.
The free version is the full version and will never expire. The only limit is the recording time limited to 40 seconds. All other features are fully enabled and will never expire.
These Features Are Totally Free Will never Expire
Free caller ID
Free photo caller display
Free phone dialer
Free phone book
Free answer machine (40 Seconds Recording Limit)
Free telephone call conversations recording (40 Seconds Recording Limit)
and much more
Do you want to Record all your phone calls, looking for Answering machine, Photo Caller ID, Dialer, Photo Phone Book?
Main Features Summery
Records telephone conversation to compressed wav files
Can record any signal on the phone line
Can start recording manually at any time during the call
Caller ID, caller name and number
Caller ID with photo display for callers stored in the built in phone book
Built in phone book with photo support
Auto answer machine
Hot key system wide access
Phone Dialer with the options to record the outgoing call
Imports Outlook address book
Supports different wav file formats and compressions
Optionally play legal or greetings message before recording
Automatically answer after an optional number of rings
Optionally set the maximum recording message length
Auto recording stop and hang up when call is disconnected
Auto recording stop after detection of silence for preset number of seconds.
Works with any voice modem or telephony device
Support ISDN lines
Optionally auto start with Windows
Hides in the system try with easy access menu and hotkey
Stores messages in folders tree helps you organize messages
Move messages between folders or save to any location
Easy call information preview will dialing options with the help of the phone book
Modem status window for easy watching the line
Visual recording voice spectrum plotter for watching silently
Easy product registeration.
Easy and nice user interface.
Much more...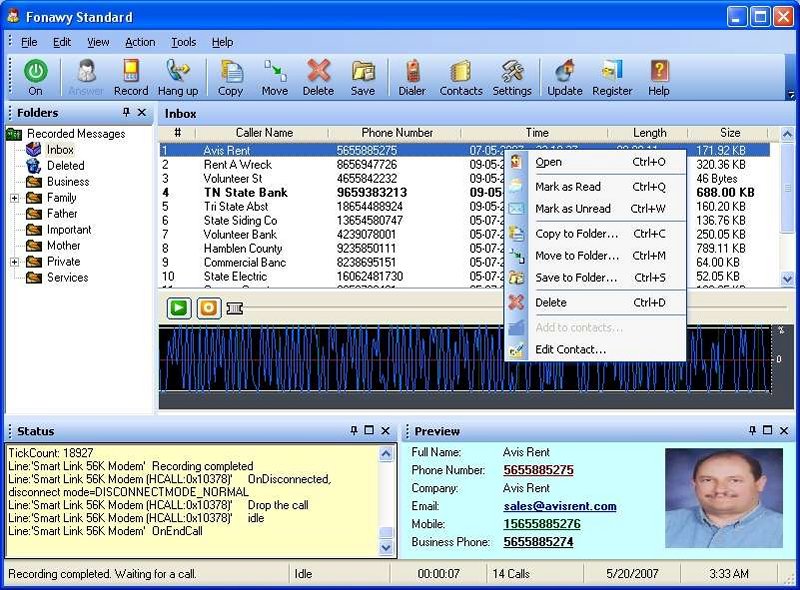 answering machine, caller id, call recording, conversation recording, phone call recording, record phone calls, answer machine software, caller id software, free caller id, phone recording, phone recorder, call recorder, call recording software, call logging and recording, call law phone recording, call detail recording, incoming call recording, call phone recording software, free answering machine software, address book, phone book, outgoing call recording